Huge climate change protest to be held in Leeds on Friday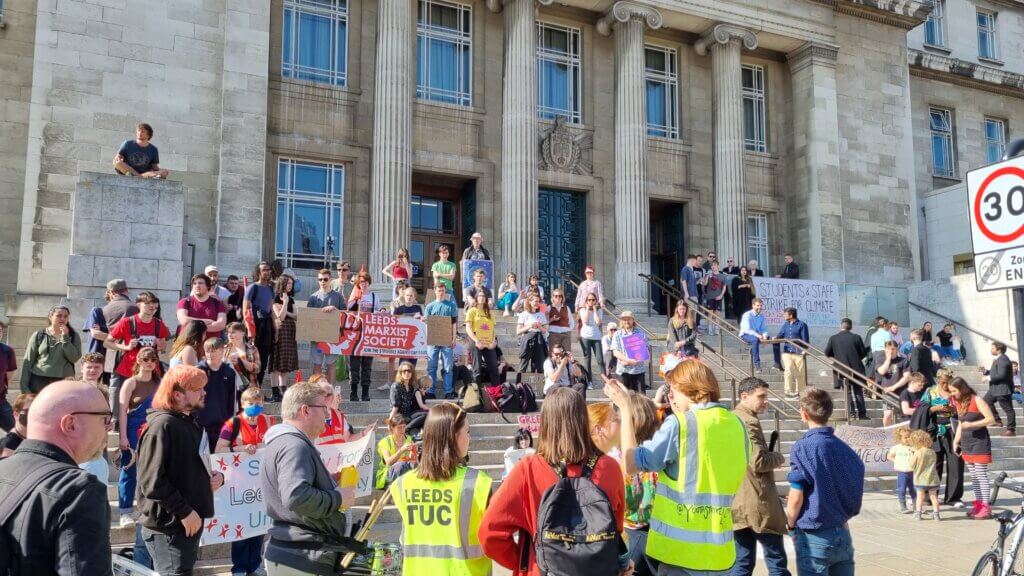 "Youth takeover" took place at the University of Leeds today, on March 25th. Activists believe we need to "act now" in worry for the future of the city. The strike is in response to the Department for Education's Sustainability and Climate Change Strategy. Headteacher Lesley McKay from Moor Allerton Hall Primary School believes the draft bill represents a real concern to schools. Leeds University has been chosen as the location to highlight the campus' continued use of fossil fuels and gas, three years after committing to net zero.
The above photograph was taken at the event on the afternoon of Friday 25th.
Climate change: Can the Russian energy crisis help to curb global heating?
PM is being tugged in two directions as he deliberates on an energy strategy. Experts and business tell him existing plans to cut fossil fuels to protect the climate will help shield the UK from rocketing global prices for oil and gas. Conservative commentators insist that the UK should also resume fracking to shield fuel price rises. The International Energy Agency urges everyone to turn down the thermostat by a degree. That could save up to 10% of heating energy (and costs).
Smart Buildings Market worth $121.6 billion by 2026 – Exclusive Report by MarketsandMarkets™
The Smart Buildings Market size is expected to grow from $72.6 billion in 2021 to $121.6billion by 2026. The major drivers for the Smart building include the rising adoption of IoT-enabled building management systems and increased demand for energy-efficient systems. North America has witnessed the emergence of the latest smart building solutions that leverage new technologies, such as IoT, big data, cloud computing, data analytics, deep learning, and artificial intelligence.
Record numbers of UK manufacturers raise prices as Ukraine war hits costs
An expected repercussion of the Russian war in Ukraine is a rise to manufacturing prices in the UK. This article from the guardian investigates:
"Adding to fears that Britain is set for a prolonged period of cost-of-living pressures, the employers' lobby group, the CBI, said 82% of firms were expecting to raise prices in the coming months against just 2% predicting a fall."
Indian mystic Sadhguru on 100-day motorbike mission to save soil
Sadhguru is embarking on a 100-day motorbike journey from London to India. He will cycle through Europe and the Middle East in an effort to "save soil". A third of soil globally is degraded and more than 90% could become degraded by 2050. Soil can be enriched by introducing cover crops and more vegetation or adding plant litter and animal waste. Increasing organic matter improves soil structure, aids water retention and reduces erosion. Healthier soils provide more nutritious food and climate-resilient landscapes that are better able to cope with extreme weather events.
That wraps up this week – if you'd like to see more of this content, fill in the box below to subscribe to our newsletter so you never miss a post!