Those pandemic lockdowns saw the fitness industry 'boom', with more of us getting on board with exercise than ever before. The challenge has been well and truly on for companies to escalate innovation efforts as consumer demand to make being active interesting, increases.
We know that exercise keeps us healthy and makes us feel good. Imagine being able to put those endorphins to an additional use too, namely saving the planet? That's exactly what Energym are doing. And that's why we chose to speak with CEO and Founder, Will Flint, as part of our Becoming Greener Guest Series.
Making ripples in the sector, the start-up designs and develops fitness equipment that captures and converts human energy to clean, usable and sustainable power. Will has confessed that they're 'geeking out' on the tech, and so are we after this chat! Read on to find out more.  
What are Energym's goals?
Energym empowers people to exercise not only for the health benefits but for the good of the planet, too. Energym encourages individuals to be consistent in their fitness by using smart equipment to reward the user and gamify the experience. 
We launched the RE:GEN in June 2021, the world's first energy-generating smart fitness bike. Riders get to keep the clean energy that they've created during their workout and can use it to power devices in their home. The RE:GEN is compatible with Zwift, an online platform where riders can race in immersive environments against friends and strangers. Users collect Sweatcoins as they exercise and can then spend them on Energym's virtual marketplace.
Our app (currently in development) builds workouts based on a user's goals and routine. It then communicates them to the bike so that riders can maximise the time they have available to exercise. Exercise is key to supporting the physical and mental health of everyone, but it can be hard maintaining a routine especially when you're doing it from home. To maximise the clean energy potential, riders should feel encouraged and motivated to exercise.
Unlocking human power as a viable clean energy source is at the heart of what we're doing. As a planet, we must move away from our reliance on fossil fuels, and through exercise, people can reduce their carbon footprint. Given the popularity of fitness and that the technology is so easy to put into buildings and homes, there's huge potential to scale up. So, Energym is putting the technology into businesses and commercial fitness premises, too.
In a time when we need all the renewable energy we can generate, human power can be a valid contributor to global power needs. The more people that exercise, the more power that gets generated. That's good for the individual, for the energy network and the planet.
Do you think having corporate sustainability goals is critical to success?
It's definitely becoming more important both to consumers and employees. We know that Millennials and Gen Z are more discerning with where they spend their money. They're more likely to support businesses that align with the same social causes. Companies that don't understand this will lose out to competitors that do. Research also suggests that employees are happier and more productive working for companies that create value in the world. Corporate sustainability is a way of showing what's important to a company beyond its products and services.
Working towards sustainability can also make businesses more efficient. This may be in terms of cost (reducing waste, streamlining processes, or lowering costs), or employee productivity. But goals alone aren't enough. Companies must actively pursue and earn their sustainability credentials. Otherwise, it's just an empty gesture that savvy consumers will spot.
There's also the fact that with the UK Government pushing for net-zero carbon emissions by 2050, businesses will be held accountable by politicians. Those companies that are unconvinced by sustainable goals should also bear in mind that rising global temperatures will impact all businesses, even their own.
Do you think companies are genuinely doing enough to reduce their carbon emissions?
No, but then most people aren't either. The political will to reduce emissions has been slow and is only now gaining momentum. The recent UN IPCC report is the first time that world governments have agreed that climate change is manmade. There's been a lot of target setting, but very little movement towards genuine reduction based on scientific recommendations. But it is hard for companies to know where to begin. Carbon calculations are difficult to make and especially so when companies have long supply chains.
Are there any industries that stand out to you as ones that are pushing sustainability goals further?
Not necessarily industries but certainly start-ups, scale-ups, and small businesses seem to be approaching sustainability more seriously and often more transparently, too. There's been so much green-washing with larger companies that it makes sense for people to look to local and small businesses. We're seeing everything from small companies selling genuinely eco-friendly soaps and shampoos right through to more ambitious projects that require significant funding in the technology and transport sectors.
Innovation often comes out of passion projects. People see problems or sticking points in the things they love (or in the products they're using) and want to solve or improve those things. Certainly, that's true of Energym. I combined my love of fitness and sustainability with an understanding that the energy generated during a workout was being wasted. I wanted to explore ways of harnessing it, so I created my own company to give me the freedom and the ability to look into this. The Government seem to recognise that innovation often comes from humble beginnings. It's why there has been so many innovation awards and loans for smaller businesses recently.
Do you think there's an increasing interest from businesses to implement technology to improve their sustainable credentials?
Yes, absolutely. Technology is key in tracking sustainable goals and credentials over time. Companies can't become sustainable overnight so there must be a record of their journey: the baseline where they started from, right up to the present day. Companies need to see what's working and what isn't. Technology helps provide an accurate and thorough insight into what's happening. It can also make the process more interactive for customers, consumers, and employees.
Carbon emissions etc can be very complicated and dull. Technology can break the numbers down and present the information in a meaningful way. Putting sustainability into the context of the individual is something that Energym believes strongly in. For example, users of the Energym App can see how much carbon they've saved and what that translates to in real terms.
Technology provides the details that can also show incremental improvement, the kind we can't always see at the time. It's why fitness trackers have been so useful in helping people stick to exercise regimes. Show people they're making a difference (even when it feels like they're not) and they're more likely to keep it up and achieve bigger changes. Sustainability is such an overwhelming subject that technology can help put it into a framework that people can understand.
How is Energym helping to create a net zero world?
The RE:GEN captures the energy generated during a workout and converts it into clean power by storing it inside the Ohm, a portable battery unit that clips onto the bike. It charges up as the rider exercises. Once the workout is completed, the user can unclip the Ohm and use it to power devices like phones, laptops, and tablets. It can hold up to 100wH of clean energy. What's more, it also has LED lights that transform into a live power meter that displays functional threshold power (FTP) so riders can see easily how efficiently they're working out and whether they need to step it up for a maximum workout.
Users can also access the app which tracks important data and offers virtual and on-demand classes, AI-generated and personalised workouts, as well as live games and challenges. It makes exercise convenient, personalised, and fun. We've combined the metrics that people want to see after a workout – calories burned, active minutes, resistance, and speed – with the clean energy generated, the number of homes powered over 7 or 30-day periods.
Energym is also currently developing inverter technology to push power back into a building as well as a range of business solutions so that companies can empower their employees to improve their fitness whilst generating clean energy for the building.
Do you have an example of when you've enabled a business to become more sustainable?
We're a tech start-up. Our bike is a prototype that we're putting the final touches to before we start manufacturing. We've taken our pre-orders on IndieGoGo and can't wait to see the bikes in people's homes over the coming months. Ask us again in a year and we'll be able to give business-related sustainability wins. Our commercial orders are already coming in ready for 2022, and we can't wait to show everyone what the technology is capable of doing in a business setting. We've been working closely with UK sports brand Gymshark at their gym, so watch this space…
A big 'thank you' to Will for taking the time to talk us through the concept behind Energym, their technology, and their insights on incorporating sustainability in a business world.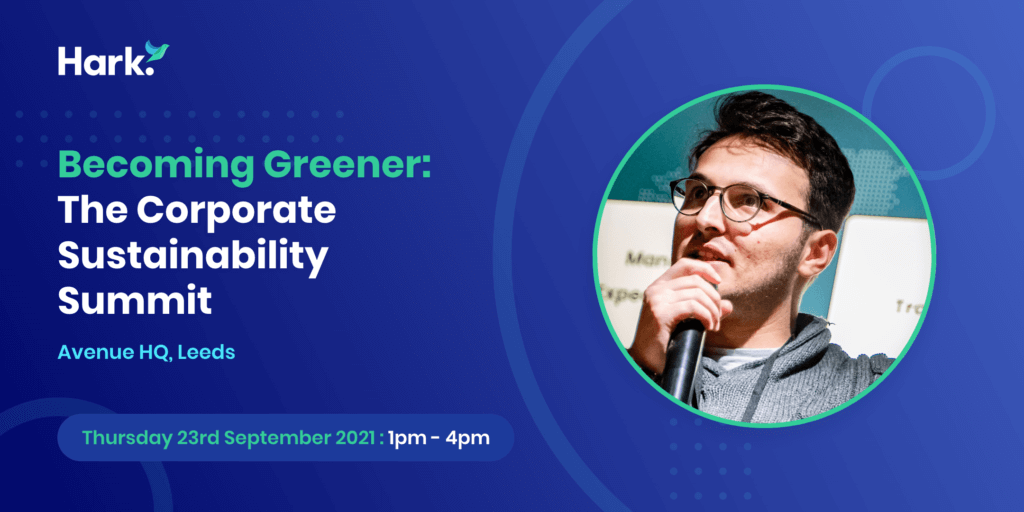 You can still sign up to our Becoming Greener: The Corporate Sustainability Summit event taking place on Thursday 23rd September as part of the Leeds Digital Festival. Hurry, there is now limited ticket availability! We'll see you there!