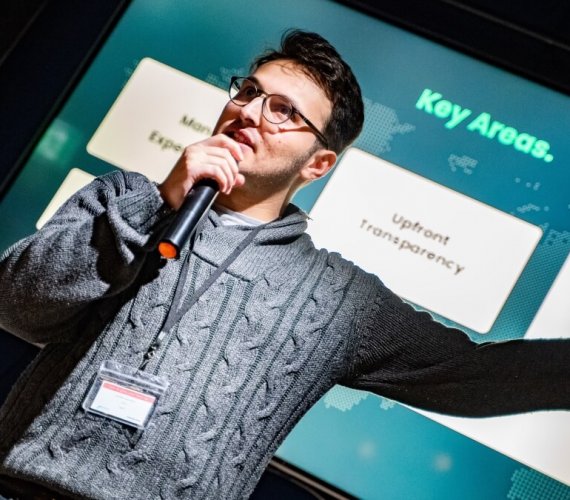 Get to know the team of experts that make up Hark: a dynamic collective of unique professionals, each with finely-honed skills, impressive talents and effervescent personalities.
Meet Our Founders, Software Engineers, & Creative Thinkers.
If sustainability and technology is a combination you like the sound of, then a career at Hark could be for you. We offer fulfilling roles in a brilliant team, with great opportunities for professional development.
Hark was founded in 2016. You know the classic tale; the founders quit their jobs and work from the garage or basement. Hark didn't start quite like that but wasn't a million miles away. The original spark that set Hark alight was simple: make manual tasks easier.​
We started in Life Sciences, winning our first customers, pharmaceutical companies; monitoring and reporting on sensor information, such as temperature, and providing a digital paper trail for scientists, asset operators and lab technicians. This is where our most popular features, like alerting and custom dashboards stem from. We dabbled in manufacturing our own hardware for a while before we went all-in on software and started to develop our partner network.​
In 2017, we onboarded several other life sciences customers and were also asked to apply our remote asset monitoring solutions to other industries: Energy and Retail. By the end of that year, we were monitoring and controlling Tesla batteries and had our software deployed in supermarkets monitoring assets such as energy meters, lighting, bakery ovens and HVAC.​
In 2018, our retail deployment developed and grew into a national UK & Ireland rollout for Sainsbury's, a top-4 UK supermarket. We also licenced out our technology for industrial manufacturers who were recognising the need to offer software solutions as part of their proposition. Hark's work was also attracting attention from some of the large tech companies who we thankfully now call partners, we're proud to be a Microsoft Gold Partner, a Dell Partner, and partners with both Intel and Arm.​
In 2019, the Hark team moved into double figures for the first time, thanks to growth in our engineering team and the creation of our data science function.​
In 2020, we began hoisting innovation workshops with another top-4-retailer and expanded our platforms capabilities from stores to depots, with new platform modules looking at occupancy and asset monitoring. We also enabled connectivity for lots more assets along the way, notably Solar PV and cameras. We expanded our Solutions, Delivery and Sales teams. The year also saw us launch Hark Energy Tools, enabling customers to upload and monitor HH metering data and forecast energy consumption.​
By 2021 Hark's team had grown close to 20 people. We introduced first time roles such as Product Owner, Senior Software Engineers and Account Managers. We won our third top-4 supermarket, deployed solutions at glass factories, chemical manufacturers, and began our relationship with Unify Energy.​
The last 12 months has seen us start our partnership with Halma-owned Castell Safety International to help with Health and Safety at Depots and Distribution Centres.​
At the beginning of 2023, SolarEdge, a global leader in smart energy technology acquired Hark. Our capabilities will expand SolarEdge's monitoring and energy management offering to the Commercial and Industrial segment.​
Subscribe to Our Newsletter
Stay up to date with the latest industry news, platform developments and more.