The concept of 'net-zero' carbon emissions emerged from physical climate science and is now leapfrogging to the top of board-level agendas as companies and nation-states have set targets to reach carbon neutrality. Although there's been substantial dialogue, across a plethora of industries and forums, how can we work better together to become more sustainable?
Hark brought together academic leaders, industry pioneers and public sector speakers as part of the Leeds Digital Festival, to put change into action!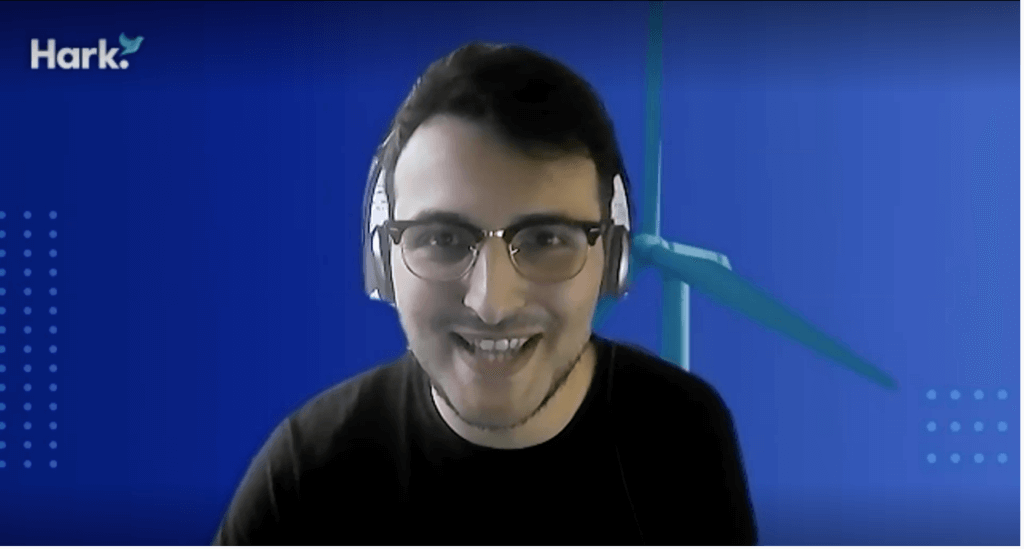 We were introduced to the webinar by our host and CEO at Hark, Jordan Appleson.
Jordan told us, "Unity across different sectors can bring about a greener future, by encompassing different approaches from science, technology, and innovation. The concept of net-zero which has been prolific within the last two or three years given COP26 must have a multifaceted approach to what we are doing."
Reika Igarashi, Postdoctoral Research Fellow in Marketing at Leeds University Business School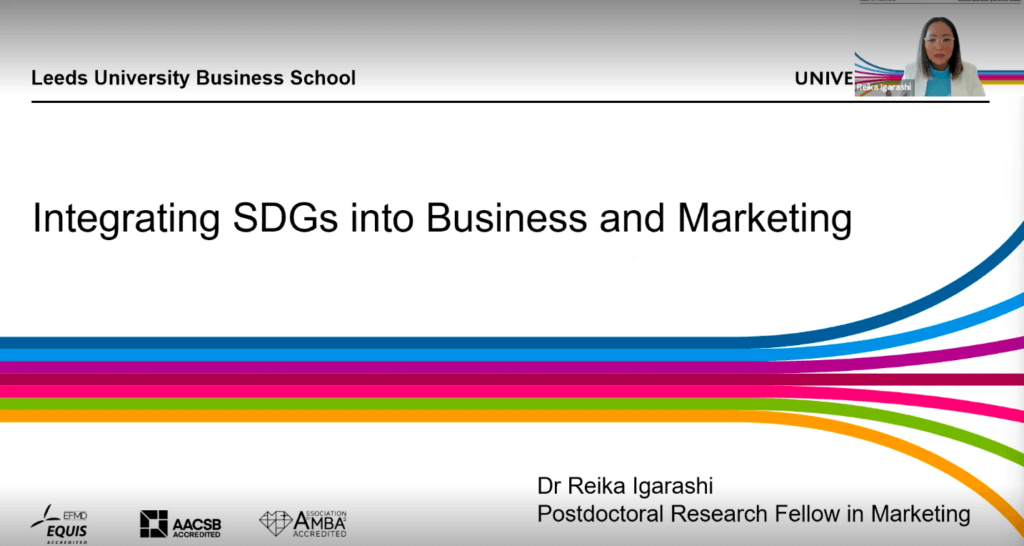 Reika kicked off the webinar with an introduction to integrating SDGs into Business and Marketing. Reika spoke about the factors in sustainability marketing practices and how companies should consider if their impacts and changes are not only good for the firm but also good for the world.
"Sustainability doesn't just mean being green it means economic growth and social impact. The idea of sustainability is developed from the theory called Triple Bottom Line, arguing that to achieve sustainability we need to include all three dimensions.
Reika gave us insight into how businesses are adapting and changing their supply chains to become more sustainable by involving suppliers, retailers, and consumers, to address SDG.
She went on to say, "fast fashion industries are trying to tackle sustainability within supply chain issues with cotton and chemicals, but they also need to consider the product lifecycle and how consumers are wasting the resources."
Reika finished off her presentation by talking through how there are three steps to integrating SDG activities into business practices: screening, identifying factors and partnership. She felt that transparency is key to achieving sustainability and organisations should open and share their data behind SDG related activities.
Alexis Percival, Environmental and Sustainability Manager for the Yorkshire Ambulance Service; Co-coordinator for Green Drinks Leeds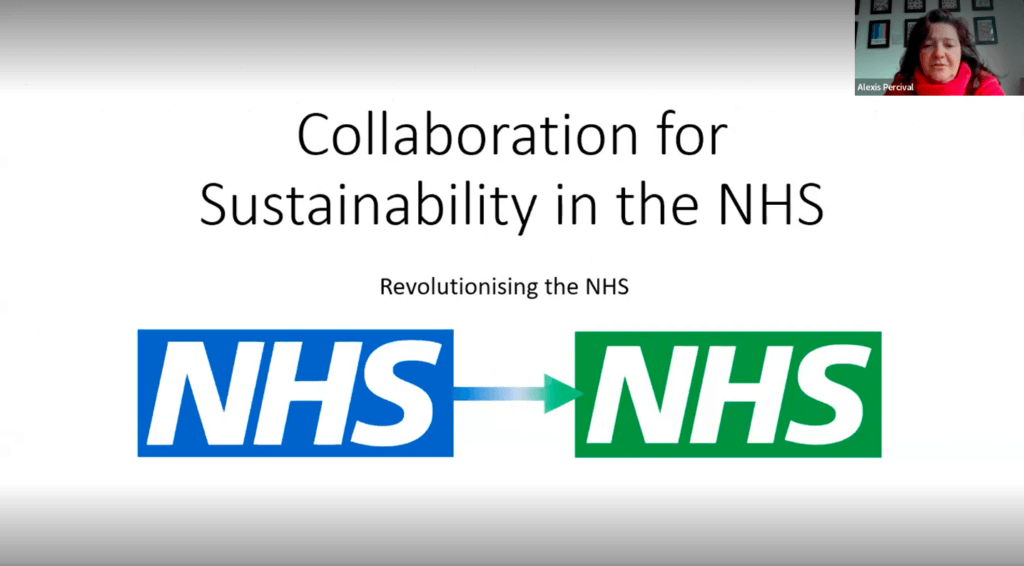 Alexis started her presentation with an introduction to sustainability within the NHS and factors that are currently in place. The NHS is the third-largest public sector organisation on the planet with 1.3m people and additional health and social care network of over 1.5m. Alexis asked, how do we make the NHS more sustainable? Alexis expressed how tackling sustainability can only be done through collaboration and not in isolation.
"We are looking at a 2050 target in line with the climate change act, to decarbonise the whole of the UK's emissions. The NHS plays a major part in that, contributing to around 4%. As a National Health Service, we must recognise that the climate emergency is a health emergency," she said.
Alexis gave us insight into the legislation that has been put in place called 'Delivering a 'Net Zero' National Health Service'. The importance of this climate emergency has convinced another 43 healthcare systems around the world to sign up and set their own targets.
"Our carbon footprint within the NHS is around 23m tonnes of Co2 per year. A major chunk of that is from procurement and the supply chain. Collaboration plays a major role in this."
Since the pandemic, the NHS has revolutionised the way they communicate with one another by using Microsoft Teams. This new way of communicating has changed the way the NHS can tackle climate change and their sustainability agenda. Alongside Teams, other platforms have been introduced to replace existing infrastructure and highlight critical data within the NHS such as Spine, Future NHS, and Greener NHS.
"We've seen a revolution through innovation in the NHS. Green spaces have ensured that we have carbon elimination, whilst ensuring we improve human and patient health."
Climate change is severely affecting the planet with floods and fires, which is causing strain on emergency services from vital routes being blocked, to health problems. Alexis ended her presentation by explaining how collaboration is playing a key factor in building resilience and achieving net-zero.
John Naughton, Technical Director at Allied Glass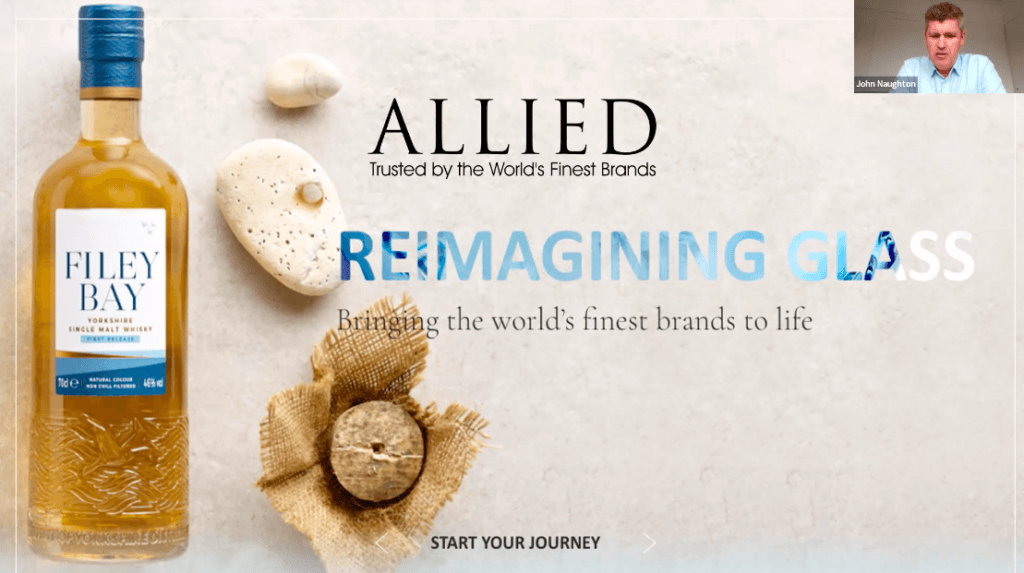 John focussed his presentation on manufacturing and the circular economy. John gave us insight into who Allied Glass are and how one of their main USPs is offering a variety of solutions to their customers, with a large focus on sustainability.
John said, "glass and the glass industry play a major role within manufacturing, having a lot of environmental credentials and potential to fit into where we need to be as a planet."
Allied Glass have formed their company strategy and objectives around the UN Sustainable Development Goals. John explained how over the past years Allied Glass have realised they cannot reach their set goals alone.
"We are working with our suppliers and our customers to work together and look at the whole supply chain."
Allied Glass has been committed to using 100% renewable electricity since 2019. In 2022 they signed a CPPA with Drax for a supply of 66GWh per year of renewable hydroelectric power. Although the industry is carbon-intensive; Allied Glass are not only committed to reducing their Co2 emissions but also to preserve natural resources.
"Glass is well placed to be the sustainable packaging medium alongside some metals in the future, as it can be recycled an infinite number of times. With a recyclability target of 90%, the current recycling rate of glass is at 70% in the UK."
John gave us insight into how Allied Glass is partnering with Zero Waste Leeds to promote recycling in Leeds with bottle banks and talks in schools.
John rounded up his presentation with Allied Glass's 2025 sustainability objectives and their roadmap to 2030. He explained how Allied Glass work closely alongside their customers to reduce the environmental footprint of their products, increasing recycled content and driving down emissions.
George Munson, Energy and Climate Change Manager at Leeds City Council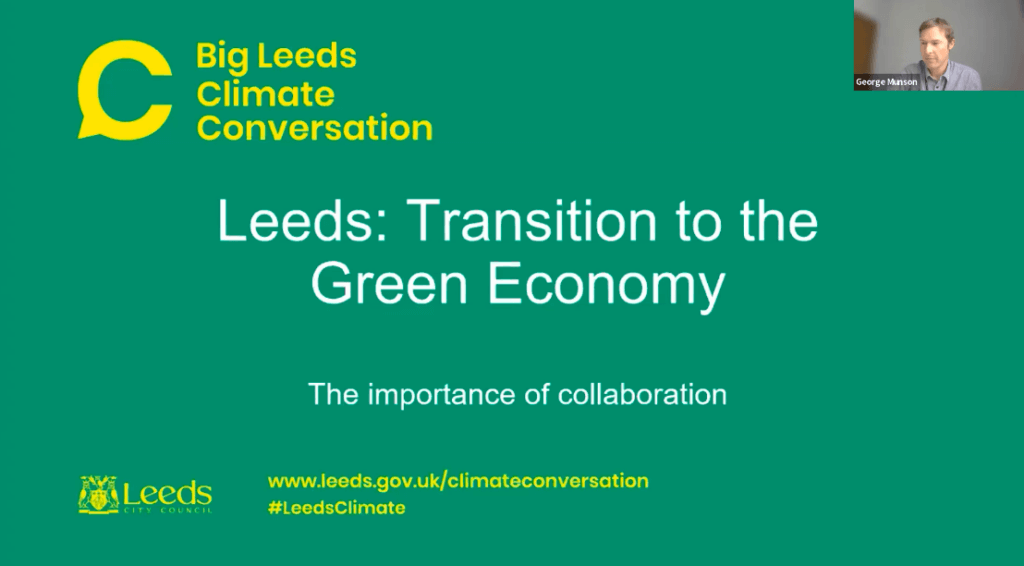 Our final speaker George spoke about Leeds City's transition to the green economy. The points he discussed were around the Leeds climate emergency aspirations, the green economy and examples of collaborative projects that support the green transition.
"The climate emergency declaration that changed for us was the depth of responsibility we are taking in terms of carbon reduction. We made the climate emergency part of everyone's job regardless of their day job."
"It's not just a city council issue, it's a city issue."
Recent research found that Yorkshire and Humber account for 6.4% of UK GDP and are responsible for 10% of carbon emissions, over half coming from 25 industrial sites.
George guided us through the actions Leeds City Council have been taking whilst partnering with other vital organisations to reach this low carbon economy.
He introduced us to the Holbeck low carbon retrofit project which looked at improving over 300 homes and making them energy efficient. Their next project was Stourton Park and Ride; the first solar panelled park and ride in the country, which utilises charging points, electric buses, and generating renewable energy. The last project he introduced us to was Leeds PIPES, which is one of the UK's largest heat networks.
"Leeds PIPES came about because Leeds, like all other major cities and authorities, had a problem and needed to avoid sending waste to landfills. We wanted to build something in the city to avoid exporting our waste to a greenfield site."
George concluded by explaining the future of expanding Leeds PIPES and the Government's support of this scheme.
The webinar discussed the vital collaboration with end-users, consumers, and other businesses to tackle the climate emergency through a plethora of solutions and activities. Our speakers expressed how the only way we can reach net-zero is by working together in various ways. Thank you to our speakers, Leeds Digital Festival and to everyone who joined us for the event. If you would like more information, please contact us.