It was revealed that just twenty companies accounted for a third of all global emissions, with some of the most major companies ignoring the climate crisis altogether. This is likely to soon change with the collaboration and innovation of businesses being massively influenced by Net Zero 2050, sustainable development goals (SDGs) and general CSR (corporate social responsibility) targets.
The Green Way of Thinking
A sustainable business is one that functions in the best interests of the local and global environment. These businesses are environmentally conscious and consider more than just their profits, they reflect their impact on society and the environment.
One of the major ways in which businesses do this is considering how they can align with the UN sustainable developments goals and the Paris Climate Agreement. Goal #13 of the SDGs in particular: "Take urgent action to combat climate change and its impacts."
Major corporations are now beginning to consume more sustainably, with a view to minimising waste. When done across the board, this could significantly impact the climate crisis and help us keep the looming 1.5-degree temperature increase at bay.
Now the Pressure is REALLY on…
Sustainability initiatives aren't something that can continue to be put on the backburner. To stop the climate-disaster clock, businesses have to act now. Let's put this into perspective:
An island of plastic twice the size of Texas (approx. 1.6 million square kilometres) is floating in the Pacific Ocean, known as the "Great Pacific Garbage Patch" (see image below, taken from National Geographic).
We are on pace to produce 27 billion tons of solid waste by 2050 due to the business environment.
Unchecked Co2 emissions are projected to contribute to a temperature increase of two degrees celsius by 2050.
Unfortunately, this is just the tip of the iceberg. But it's not all doom and gloom, there is a light at the end of the tunnel, thanks to the sustainability initiatives and subsequent actions of governments and businesses.
Taking Matters into Your Own Hands
Government legislation tends to drive change within businesses, and these policies are often built off the IPCC's (intergovernmental panel for climate change) reports. That being said, the latest government advice is to not wash our plates before placing them in a dishwasher. Er, thanks… I guess. So perhaps it's up to us when it comes to innovation.
Businesses need to put in place strong sustainability goals that are, first of all, achievable (nobody wants those flimsy objectives) and then these need to be followed by actionable objectives that are intertwined into every aspect of a business's operations. In addition, a holistic approach to change is critical, there is no single issue, sustainability is complex and interacts with all areas of a business. The UN's goals are a helpful framework, but many can only be achieved in combination.
What Will be Your Sustainable Commitment?
It's positive to see that 71% of businesses are already planning how they will engage with the SDGs. However, only 13% have identified the tools they need to assess their impact against the SGDs. This actionable and quantifiable part is the crucial element that will determine if progress is being made.
Below are some core areas that businesses should follow when considering corporate sustainability.
Sustainable Audit – To create an effective plan, you need to know where you currently stand. Investigate your current energy consumption, your supply chain, your resources/raw material usage. This audit will highlight where your inefficiencies lie and what needs to be tackled first.
Plan of Action – First of all, a business must plan out a set of goals that will enable them to become more environmentally friendly. These need to be followed by quantifiable and measurable objects associated with each goal. For larger organisations these are often a featured section within their Corporate Social Responsibility report or even a key section on their website.
Staying on Track – There needs to be a timeline to which these goals are to be met. Many choose to follow the key ones of 2030 and 2050 for carbon neutrality. However internally these need to be broken down into key intervals, and where you be at this point. For example, if a business wants to become carbon neutral by 2030, then with a consistent reduction they should be aiming to have reduced emissions by half by 2020.
Resources & Innovation – A plan is nothing without action. But this requires resources (mainly time and money) and an innovative approach to altering your ways of working to effectively implement sustainability strategies. Could you reduce your office space and run-on rotas to minimise your carbon footprint, or could you implement IoT into your manufacturing facility to make your energy consumption more efficient.
Outline Your Commitment – Unlike your individual environment choices, a company requires everyone to be on board. You need to outline your commitment, relay it to each employee and make them aware of where their contribution lies.
At Hark, we are on a path to make our businesses as eco-conscious and sustainable as possible, alongside driving our client's sustainability goals through innovative technology. If you would like to find out more about sustainability in business and effective changes to reduce your carbon footprint, then come to our free event at Avenue HQ, Leeds on September 23rd (1pm to 4pm).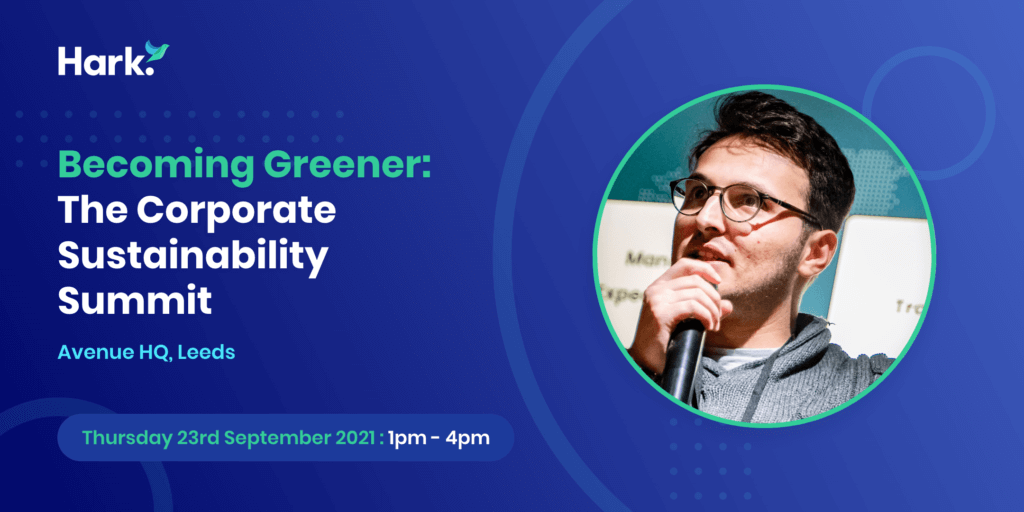 This event, titled 'Becoming Greener: The Corporate Sustainability Summit', is all about making a positive impact. Our sustainable guest speakers will arm you with a brand-spanking-new arsenal of sustainable behaviour to bring to your business. From the power of data to the new age of green tech, our speakers will deliver talks on the most cutting edge sustainable business activity to help you become greener.
Thinking of going green? Join us in September to learn how to get started!