The Hark Platform is flush with incredible features that help our customers make better business decisions and, ultimately help them to reduce costs and increase efficiency. One of these features is the "Hark Automation and Rules Engine." – can you guess what it does?
If you were thinking 'model, automate and control industrial assets, buildings and infrastructure' – then you're right on the money. Let's take a look under the bonnet, and get to know exactly what this feature is all about.
Control industrial assets using The Hark Automation and Rules Engine
The engine provides organizations with a powerful way to model their assets, buildings, and infrastructure to gain oversight of their estates from anywhere in the world. An intuitive interface allows you to build up advanced automation and alarming rules to see the information you need to see at the exact moment you need to see it – or even change properties when a trigger threshold is surpassed. This interface makes the implementation of automation and rules simple – and easy enough for anyone to do!
Put simply, the engine lets you react quickly to underperforming assets.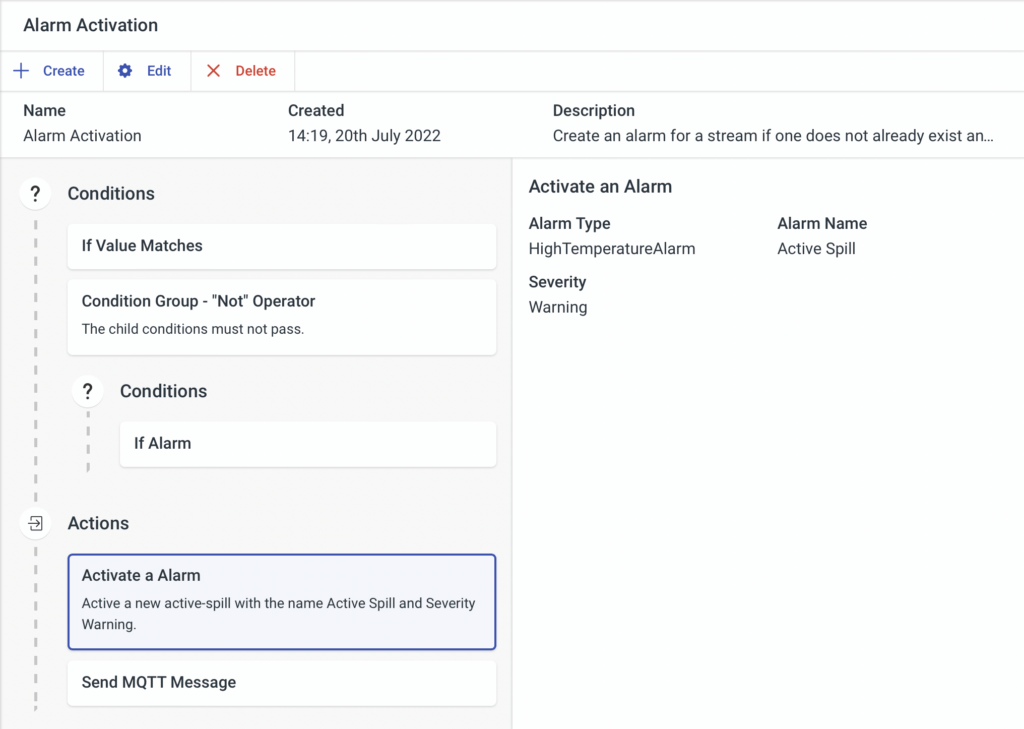 The core value comes from having a real-time oversight of your estate modelled in a way that makes sense to your organisation. The feature also provides a faster time to insight, remote triage, and access to the data you need, from anywhere in the world.
Advanced automation and alarming rules provide automatic ways of integrating with other services in order to notify the right people and resolve issues faster. Not only that, but this feature delivers the holy-grail of smart facilities: the ability to automatically control assets for efficiency gains.
But what does automated control really mean for a business? Well, an estate can be responsive to environmental changes like temperature, lighting, humidity (etc.) changes, energy grid demand spikes or other variables that will require process/asset/performance changes. This creates a more fluid, dynamic estate which performs at its peak throughout.
Features for triggers, automation and control
Asset Modelling
Whether it's an industrial asset, a building or something else, you can use The Hark Platform to model it in a way that makes sense to you and your organization. The key benefit being that you're able to capture key data points in real-time and see the operational status of your assets immediately.
This works by streaming data in real-time from MQTT, and/or other services, into your digital model to get the latest data at a glance. Whether it is temperatures, fault codes and status information, you can model it.
Ultimately this means better asset performance, less downtime and improved efficiency across the board.
Automations
Automatically perform a range of actions based on incoming telemetry data from your assets. You can set specific events such as triggering alarms, the control of assets, sending alerts, and integrating with other services.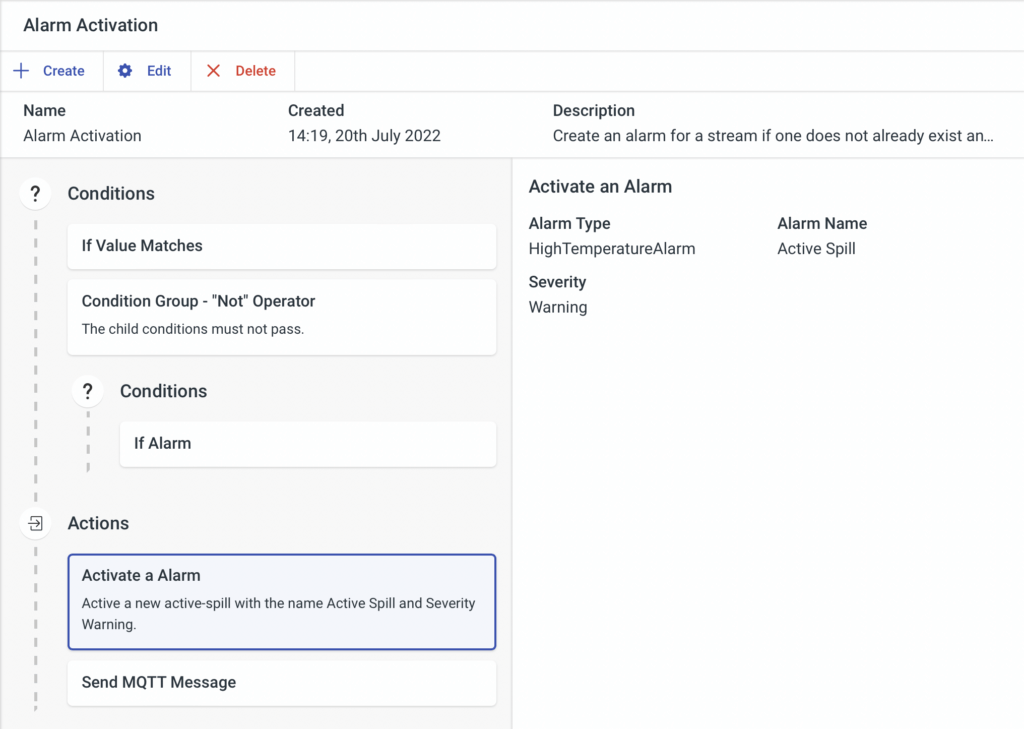 With a powerful and intuitive user interface for building custom automations, you can trigger on a whole range of actions such as asset telemetry data, alarms raised, MQTT messages, events raised and more.
Lets get into integrating with third-party services. You can do this over HTTP or MQTT, in order to activate an alarm or to raise an alarm's severity automatically. There's more, but it all depends what you'd like your automation to do, so lets move on.
Alarms
Let's dive deeper into alarms. You can build powerful and complex alarm strategies with our intuitive user interface to model your business processes in the automations and controls engine.

Automatically manage severities of open alarms with incoming telemetry data, and integrate with other services for work order management. And to make sure the right people know what's happening, you can also notify the relevant people via Teams, Email, SMS, Slack and more, with no human intervention required.

Events
Automatically raise events when actions occur based on incoming telemetry data, then track them over time and perform actions automatically when an Event is activated. This allows you to know whenever events occur on the ground and manage business processes.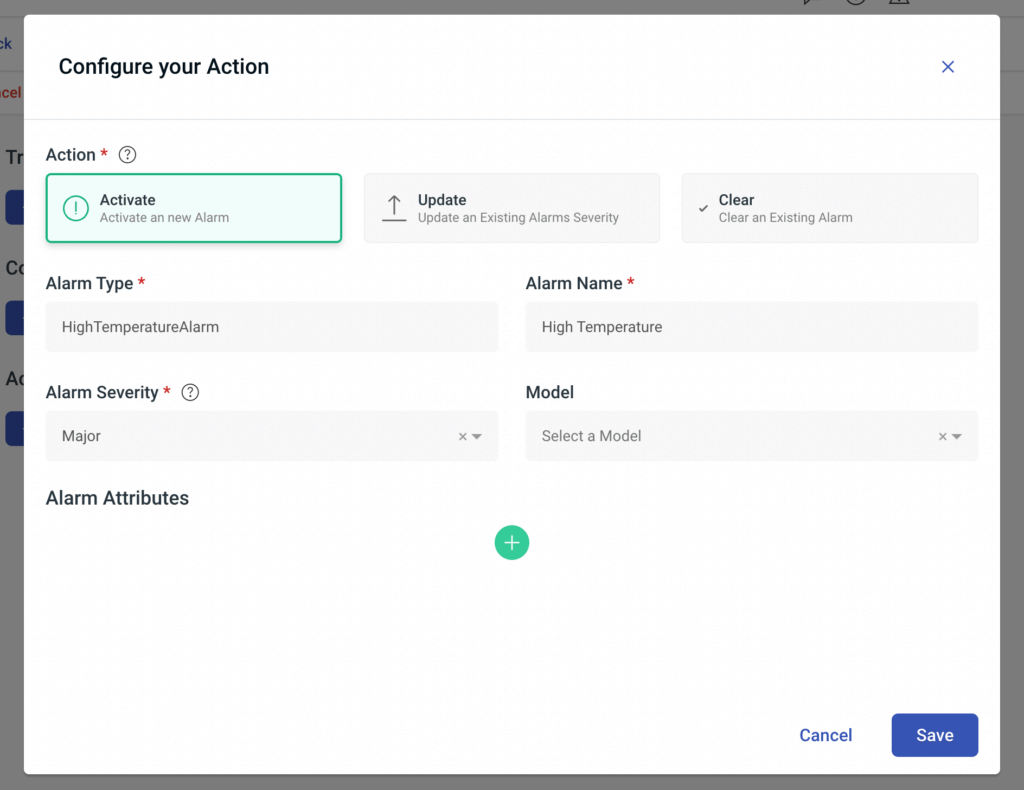 Custom Views
Build up custom views of your assets based on the current model of your data in the engine, and then visualize them amongst real-time data in custom dashboards so you can see all of the information you need at a glance.
Low Code
Low code and minimal code features mean complex workflows can be incorporated by teams of engineers, asset operators or IT teams.
Enterprise Level Support
Hark offers extensive service level agreement options meaning our customers have peace of mind that technical support and world-class expertise is available at the end of the phone.
We offer 24/7 support desk, telephone and email support with guaranteed response times and expert consultancy options for large-scale deployments.
Industrial use-cases for triggers, automations and control
There are tonnes of ways to use these features for improving efficiency, but in our experience, some of the top ones include:
Production lines
Refrigeration plants
Solar and energy assets
Building Management Systems (BMS)
Manufacturing and industrial plants
Residential homes, offices
Air quality monitoring
In all of these environments, and many more, the Hark Automation and Rules Engine will help with asset maintenance, reducing downtime and generally increasing efficiency across the board (while reducing costs).
Ultimately, whether used alone or when coupled with other powerful tools in The Hark Platform, this feature can be the difference between costly downtime or peak performing, highly optimised assets and processes.
If you'd like to know more about our products, you can check out all you need to know about The Hark Platform here.