What are dashboards used for?
In the world of connected devices, visualising data in custom dashboards is imperative for providing users with the best and most efficient experience to suit their needs. Whether it be energy, performance, or condition monitoring, all of our clients have unique use cases for The Hark Platform. For this very reason, we put customisation at the heart of the user journey and make it as easy as possible to create bespoke dashboards that tell you the things you need to know in a single glance.
Hark has been continuously improving its dashboard functionality and has recently released a robust update that adds a world of functionality and enriches user experience (UX) in a big way. New widgets, improved usability, new ways to overlay data and view consumption profiles – these are just some of our latest features. Not to mention a plethora of new ways to save, share, copy, manage, privatise, and edit dashboards.
This latest iteration of Hark's dashboarding functionality puts the user in the driver seat and equips them with everything they'll need to drive efficiency, maximise yield and reduce waste. Dashboarding 5.0 has landed, and here is what it looks like – the dashboard pictured is a quick start dashboard for an energy dataset! *cue ooohs and aaahs*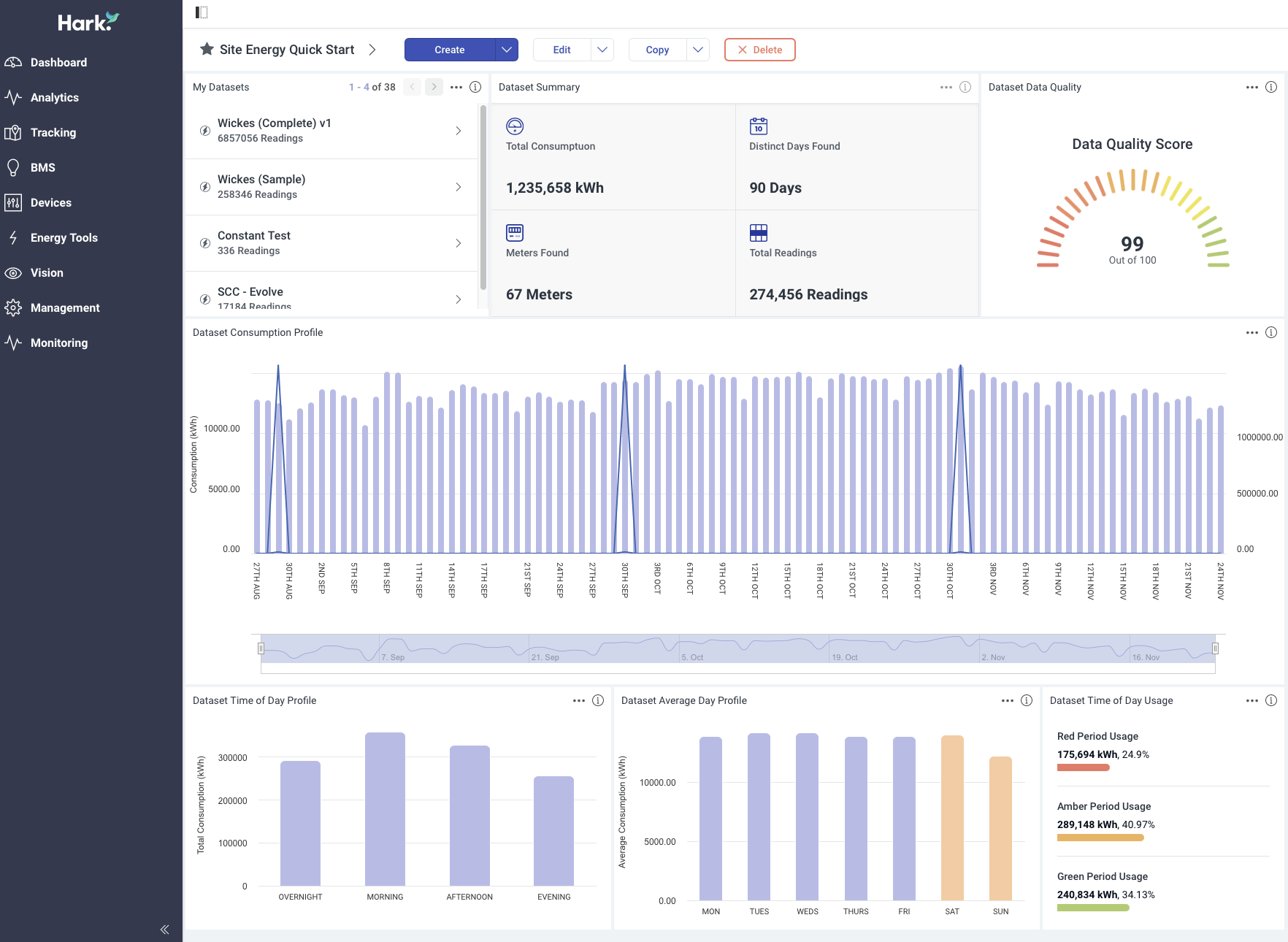 History of Hark dashboards
Over time our dashboards have evolved greatly, from just a basic dashboarding system to a full-blown, multi-functional interface.
The first iteration of Hark dashboarding seems like a lifetime ago now. These primitive dashboards lacked the vast usability offered in Hark's latest update. But the first iteration played an important role in developing intuitive dashboards you see today. Since then, we've continued to iterate and improve our dashboards, paying close attention to UX and UI. The stage we're at now has meant giving users more of the stuff they want and less noise.
Key new dashboard features
That was a nice trip down memory lane, but you're here for the exciting new features, right? So, let's get into it, here are the latest updates and features for Hark dashboards. For more information on how to use these new features, you can log into your platform account and read our latest guides.
We've vastly improved our user interface with accessibility and UX in mind. With this, we've given users much more functionality including the ability to favourite, edit dashboard names, replicate and share.
Amongst the above features we've also added:
Quick start dashboards.

Hit the ground running with a simple dashboard set-up, available at the push of a button. While users have the option to build custom dashboards, the quick start option allows faster visibility of data and bridges the gap between initial set-up and fully customised dashboards.


Private dashboards and user management.

Control who can see or edit dashboards. Share certain dashboards within the relevant teams. This feature reduces noise and gives users only what they need to see. This level of management is a perfect way to increase how efficiently teams are using The Hark Platform.


7 New Energy Tools Widgets.

We've added a tonne of functionality with these new widgets: now you can overlay sensor data, view consumption profiles and much more!

By overlaying sensor data, users can visually see disparities or patterns and draw operational conclusions based on the data. Super useful! Similarly, consumption profiles also empower users to manage larger estates much easier and develop a close understanding of high/low performing areas.

Plus a selection of other new, handy widgets!
Some additional features released as part of this update include:
Full screen mode.
Consumption profiles.
Import or export a dashboard.
Export a dashboard layout.
5 new guides on widgets.
17 guides on dashboarding.
We're thrilled about the new update and hope all of our users will be too! Never used The Hark Platform? No problem! Set up a demo today!