Racing to net-zero: A captivating but distant ambition
Companies now more than ever, need to work on reducing their emissions to reach net-zero. There has been an agreement amongst policy makers that net-zero will only be made possible with the use of CDR (carbon dioxide removal). CDR is a process – either natural or technical – in which CO2 is removed from the atmosphere. CDR has been rapidly rising due to large corporations drawn to such processes:
"The reasoning is simple: A traditional carbon offset only prevents additional CO2 from entering the atmosphere (instead of removing already-emitted CO2)."
Vodafone aims to improve European road safety with new platform
Vodafone is releasing a new platform STEP 'Safer Transport for Europe Platform', which collects data from connected devices to improve road safety across Europe. This is further evidence of integrated IoT improving safety and efficiency in cities. We expect to see more of this in major cities as "revolution 4.0" kicks future council and inner-city projects up a gear.
Ukraine invasion a "pivotal moment" in shift to renewable energy
Designers have voiced concerns over the speed at which renewable energy is taking off, following on from the Ukraine war. The dependency on Russian oil and gas and rising energy prices has brought to light the dependency on fossil fuels and how this needs to change.
Global IoT market size grew 22% in 2021 — these 16 factors affect the growth trajectory to 2027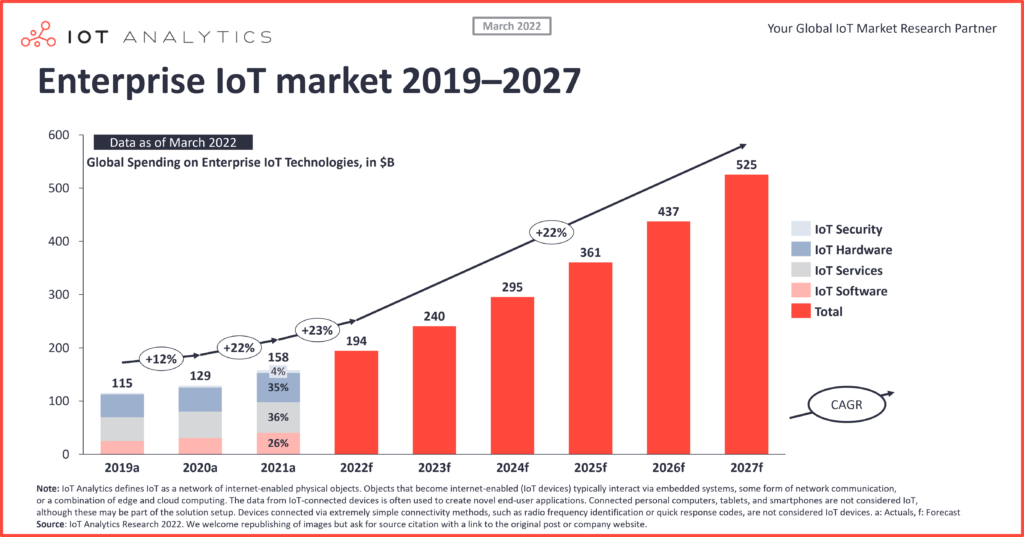 The latest figures show that IoT is an increasing market and spending grew 22% in 2021. This article from IoT Analytics dives into the 16 factors that have and will affect its future growth: https://iot-analytics.com/iot-market-size/.
Arctic greening won't save the climate
Temperatures in the Arctic are rising, and with that satellite images show that the continent is getting greener. Some theories suggest that "Arctic greening" will aid climate change due to plants taking in CO2. Donatella Zona, a biologist who focuses on the response of ecosystems to climate change, has studied why this may not be the case.
That wraps up this week – if you'd like to see more of this content, fill in the box below to subscribe to our newsletter so you never miss a post!