Commercial and industrial sites can host between tens and thousands of power-consuming assets with a whole host of different purposes. Lighting, HVAC, industrial machinery, refrigeration and so on. These estates can be costly to run, and so a desire for energy monitoring/energy management software becomes apparent. The first step to integrating energy management solutions (reducing energy bills), is a clear understanding of the estate and all the assets and devices that need to be connected to the cloud. In an IoT deployment, solutions architects will undertake an electrical site survey to plan and prepare for the project ahead.
Why are Electrical Site Surveys important?
Site surveys are an important first step for gathering information and planning the implementation of an energy management system. A few reasons we need electrical site surveys are:
To gather information on all assets and devices that need connectivity (this paints a picture of the 'energy estate' and prevents any surprises later in the project).
Site surveys allow us to create a clear roadmap for an IoT project.
Site surveys are also a great point of reference to come back to during a project.
Outside of the context of energy management and industrial IoT projects, electrical site surveys can have a lot of benefits too, such as audits for ISO 50002 certification (energy audits). In this instance, we'll be focussing on electrical site surveys for energy management and industrial IoT projects (which helps with the development of an energy management system and achieving ISO 50001 certification).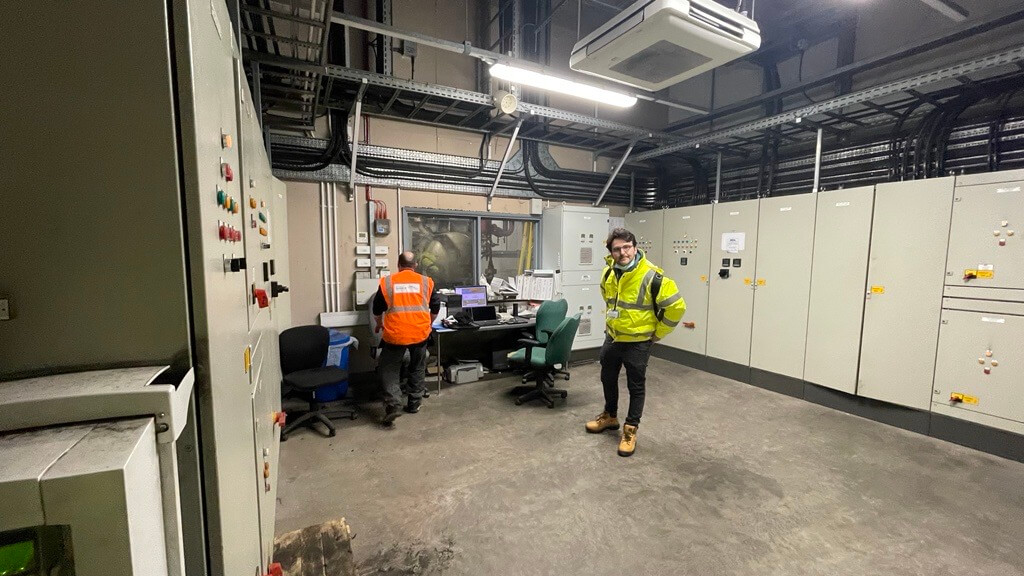 What happens in an Electrical Site Survey?
There are four key steps to a site survey, that help to plan and deliver a successful energy management project. This starts with preliminary questions and ends with connecting to the energy and IT networks for initial connectivity.
Step 1: Understand challenges and the energy management project requirements
Every industrial IoT project begins with a critical conversation outlining the customer's challenges. By first understanding whether you need to reduce energy costs, monitor asset performance, increase efficiency or overcome another challenge, we can get an initial idea of what the project will look like.
Following this, there will be a series of preliminary questions to help us gather information about the project requirements:
What type of energy metering is in place?
Do you currently have any remote monitoring in place?
How many meters are there per location and are these grouped by type of assets (such as Refrigeration, Lights, HVAC), etc?
Do you have datasheets for the make/model of meters and other assets that you are interested in understanding the health of?
Can we take photographs of assets, distribution boards and current metering in place?
Is there a BMS system installed?

Which assets are connected to it?
Is it cloud-connected?

Is there any other type of connectivity?
If a gateway is needed, an electrical engineer will be required to fit one. Who would be the correct contact internally to facilitate this?
Is there a lighting management system?
These questions give us key information about the current energy estate and the customer's vision for energy management. With this, we have a clearer idea of the customer's expectations, and we're empowered to align the IoT project proposal with this information. Having these answers means we can quote for the exact work we need to do in order to achieve the customer's goals.
In some cases, it can be valuable to get access to an electrical wiring diagram of the building in advance. This gives an idea of changes that may have been made. Schematics aren't always necessary, but can sometimes be a useful reference point.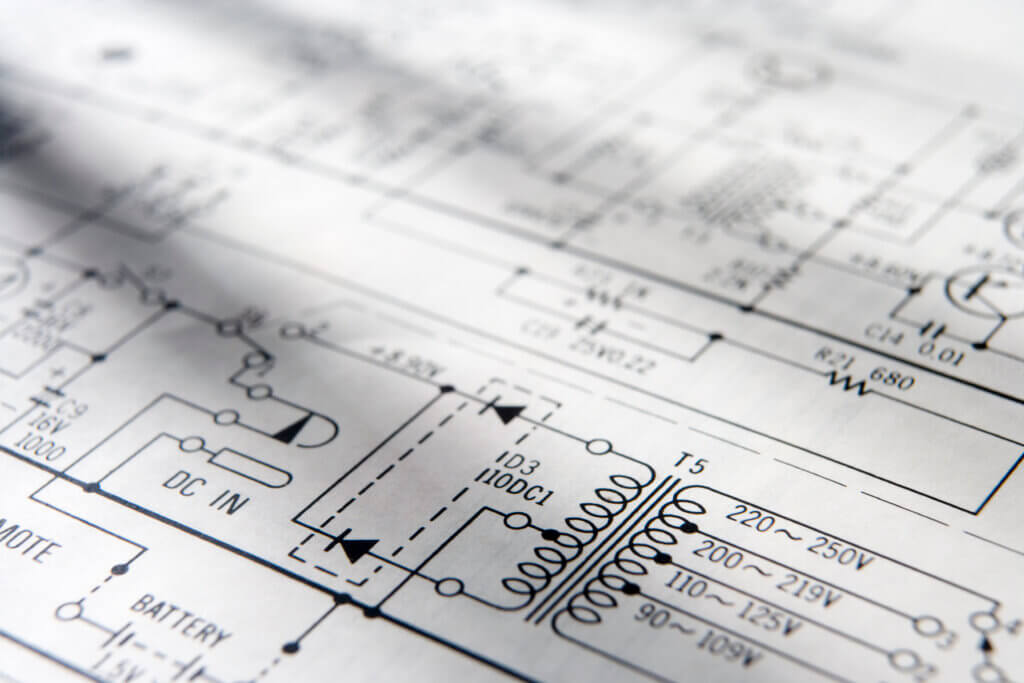 Step 2: Photograph the on-site assets, devices, meters and distribution boards
Documenting the energy estate (meaning assets, devices, meters and so on) is key to painting an accurate picture of what's currently going on, and how we can integrate energy management software into the site. Now that we've gathered critical information from the customer, we can send a solutions architect to the site to carry out research on the assets we're looking to get connectivity from.
Through the building/facility, we'll take note of switchboards, meters/sub-meters, industrial assets and devices, and anything else we'll need to know about for the project.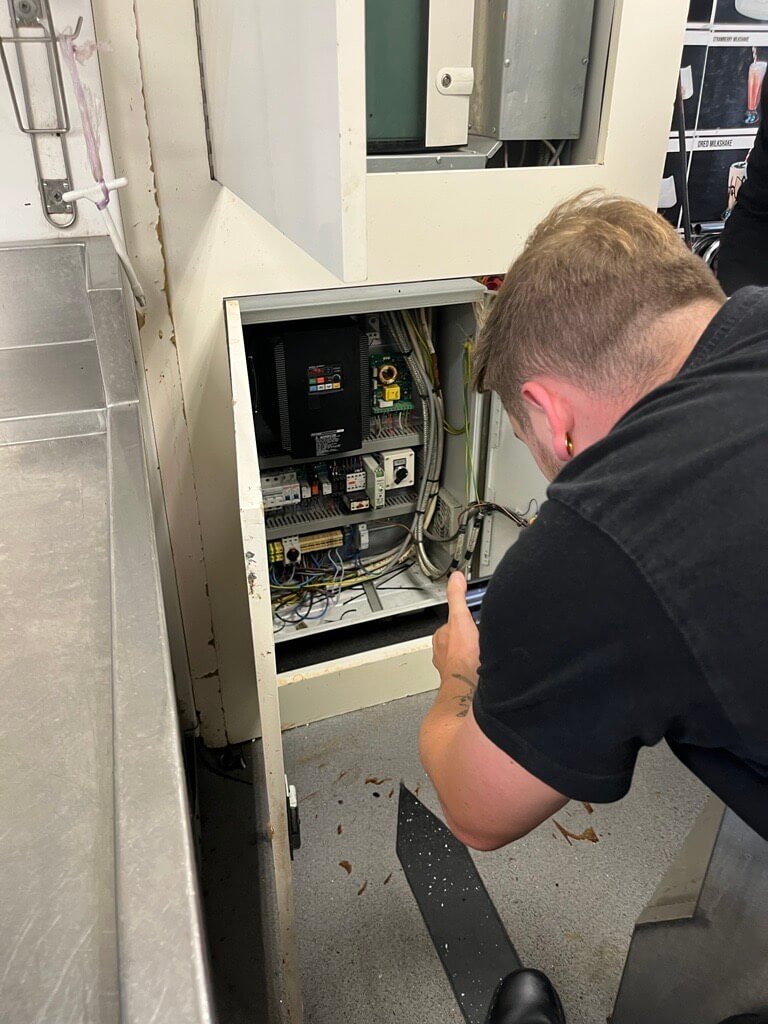 Step 3: Get to know the network infrastructure
One of the most important things that we need to learn about during an electrical site survey, is the site's network infrastructure. What communications protocols (ModBus, BACnet, OPC-UA, etc.) will we need to connect to? Does the estate use 4G, Wi-Fi, LoRaWan? This type of information will also help us become clear on whether any hardware (meaning a Hark Gateway) will need to be deployed, which is why it's critical to understand this at the very beginning of a project.
Many IoT deployments can be needlessly complicated. Where possible, it's best to avoid installing more hardware, and instead, stream data directly to the cloud. If this isn't an option, only then should gateways be considered.
Step 4: Gain access to energy and IT networks
At Hark, we give our customers the instant gratification of seeing their asset data streaming into The Hark IoT Platform. Often as quickly as the day of their electrical site survey. However, in many cases, authorisation must be validated before any data is streamed into the cloud. This can be internal or third-party, or sometimes both. The speed at which validation is completed can often dictate how fast a customer can access their data.
Key considerations to make when integrating asset data into an energy management system:
Hardware.
While many energy monitoring solutions are limited in terms of the number of meters and sensors you can connect to, The Hark Platform is totally agnostic and can connect to a wealth of different vendors and models; unifying all of your data into one central hub.
Data format.
To become truly efficient, data requires context. While energy, gas and temperature data is fairly standard with IoT platforms, our system can produce (all of the above and other variables, like) vibration, pulse output, weather, lighting and carbon data. This creates a much more contextualised view of a business's efficiency as a whole, and not just energy data.
Reporting.
Different clients need to report on different aspects of the business. Facilities managers might need separate sub-meter data for splitting energy bill runs under a single roof. Sustainability stakeholders may need carbon reports for CSR/ESG objectives. Operational managers might need to report on asset performance and maintenance. All of these different users will need access to personalised dashboards and reports – which can all be done within The Hark Platform.
Data granularity and frequency.
It's typical to see older IoT platforms offering 15 to 30-minute readings. These days we can offer readings every 60 seconds, or at any cadence that suits the client. Not only this but being able to break down energy data is hugely important now too. From estate (or even country/province) wide to a single facility, perhaps a single floor or as granular as one sub-meter or one asset. This kind of granularity allows users to zoom in on inefficiencies and empowers accurate action.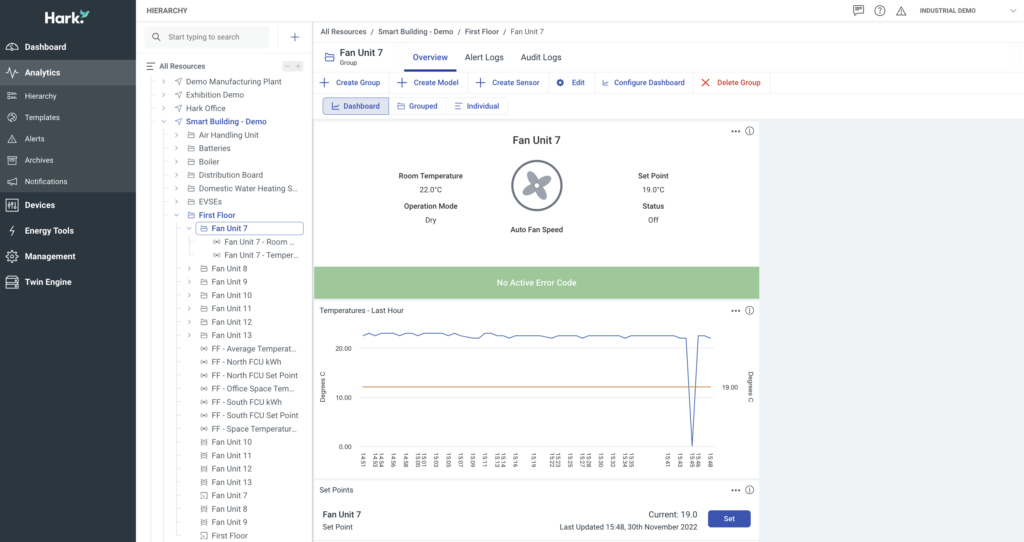 Users and permissions.
As aforementioned, not all stakeholders in a business will need access to the same information. When signing up for an IoT energy management platform, it must be discussed how many users are required, and if any special permissions will be applicable for some and not others. This gives users the ability to have more of the information they need, and less of what they don't.
How to get an Electrical Site Survey for energy management projects?
Well, that's the easy part. Hark can help you develop a full roadmap, from ideation to implementation of your energy monitoring and industrial IoT journey. If you're looking to improve the way your business performs, become more efficient, maximise yield and reduce waste, then look no further. Our team of experts can organise initial conversations, discovery sessions and site visits to understand the art of what's possible for optimising your estate.
To get in touch simply fill out the contact form below.
Want to Connect Your Assets?
Let's talk about how IoT could seamlessly integrate into your organisation, just get in touch today.